MTV hasn't always been teens having insane birthday parties, and pregnancies (not that I don't enjoy those programs because boy do I). We first met this week's feature on MTV's The Real World: Sydney and MTV's Road Rules (I really miss Road Rules a whole lot guys, btw) in the early 2000s. Kellyanne Judd made her return with her cousin Anthony for the latest season of MTV's The Challenge: Bloodlines, and I sat down to ask the in-house yoga instructor about her time on the show, music, fitness, and a few basic questions to keep it fresh.
1. What prompted your return to MTV?
After 7 years of declining the offer to be on the Challenge, I decided to go back for three big reasons. 1) Diem Brown. She would always try to get me to do these shows, I could never understand why she kept going back. All of the scheming, and fights and the fooood, I never understood it. She'd say "This is an opportunity that most people never get, so I'm going to take it!" Knowing the severity of her cancer, she still decided to go back into the challenge house. I don't know if Diem ever accepted that she wouldn't make it, but she did know the odds, and that's what she chose to do in the final months of her life. That really moved me. I was upset with myself that I never went back on when she was, she wanted me there and I said no.
Which brings me to number 2) after D passed away I got another call from MTV, I was told that the Challenge theme was Bloodlines. (mind you, they normally never tell us the theme) So I called up my cousin Anthony and asked him if he was interested. I started off the conversation with "Just so you know I most likely won't say yes to this, but was curious if you'd be interested in joining me.." He was immediately on board. When I heard how excited and ready he was, I really didn't want to tell him No. 
And 3) you learn a lot about yourself by doing the shows, things that most people take years to learn, if ever. My 29th birthday was a week before we started filming. I did my first MTV show at 20, and turned 24 on my last challenge. I feel very different than the person I was then, and wanted to learn about who I am now. And find out what I could work on for this version of myself. 
2. Since today is TMITuesday can you tell the readers something about you that they may not already know?
TMI. I have scoliosis which can be rather bothersome at times. Working out too much can be bad, not working out enough can actually effect it, certain kind of work outs are off limits. Pretty much, it's work. 
I also have a very sensitive stomach, I can't do gluten or much dairy, even garlic and onions can make me feel off. Let's be honest, some would call it IBS. (Is that tmi for you) 
3. Who in the house was your favourite yoga student?
Favorite yoga student, hmm.. I really enjoyed teaching everyone there, it meant a lot that they trusted me. Aneesa was probably the most limber, she picked it up fast!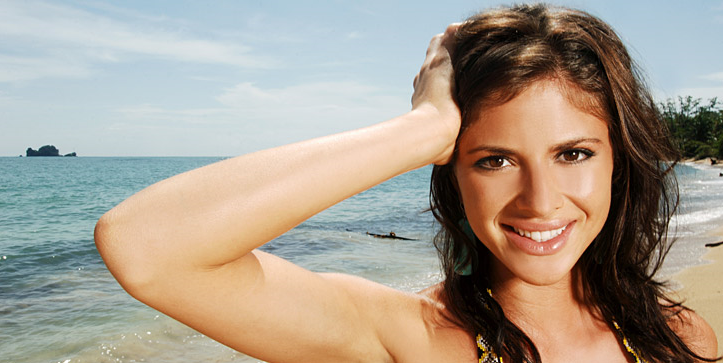 4. Lets get a little basic here, what do you like to do in your spare time?
I love going to the Farmers market! I enjoy cooking and food so much, being at a good farmers market on a nice day is definitely one of my favorite things to do. 
I also really appreciate my alone time, hiking, beach, yoga, even traveling alone. Playing with the dogs, hanging with bf, and of course, my friends! We like to make up fun games to play at bars, that way we don't have to drink or be single to have fun. The games always entail a point system and us talking to random people and probably confusing the crap out of them. 
5. What would you say is your "theme song" ?
Oh gosh, that would probably depend on which personality I have that day. Most often it would be, Here by Alessia Cara. 
Then Free, by Rudimental. But I change the words. "Sure I do yoga and I've tried Pilates, I don't like to go to many peoples parties…. There's really nothing wrong with me" more optimistic.
When I was younger it was "Time Bomb" by Iration, I guess on the right day it probably still is.
6. How did you prepare for The Challenge: Bloodlines?
Haha! Well I talked to my spiritual therapist a few times. 
I did weights, boxing, yoga, Pilates, hikes, swimming, monkey bars, swinging bars, ballet..
I bought a puzzle book, but only really played Sudoku.
7. On Bloodlines the competition really turned into a boys' club, how did it feel to be one of the girls at that point?

From what I've seen, the boys tend to take charge on these challenge shows, I didn't notice anything new. It's hard when your voice isn't heard, especially when you're being lead the wrong direction. It's not always fun, but I don't mind going my own
8. If you were not on this season of The Challenge, who would you root for?
Hmm, I'd route for Mitch and Corey.
9. You and Aneesa bumped heads this season, what is your current relationship with her?
Yeah we did. I talk to her more than most of the other cast members. We are both very passionate sensitive people. We became much closer through the experience. 
10. Whats next for you?

Good question, time will tell. I do improv in LA, it's like playing house for adults. And am still training, helping people with their diets and their body image. 
I'm also working on a sunscreen line called Sun Define, so hopefully that will be out soon! 
I may also be on another challenge, keep an eye out. 😉