With over 100K followers on TikTok this week's feature is one of my favourite creators. Not only is @MaisonAabi a fellow Canadian, but her content is funny, thought out and refreshing. I spoke with her about who she would want to play her in a movie about her life, Kpop and of course we tik talk about TikTok.
1. Who would you want to play you in a biopic about your life?
Zendaya, in a hijab!
2. Do you have a favourite current TikTok trend?
I think the trend where there is a sound and people mouth the beats of the sound is really funny. I'm not sure I explained that right, but for example, a video of someone mouthing the spongebob beat and making it look like they're speaking, sounds ridiculous but it's really funny.
3. What is the average day in the life for you?
I'm currently in my last year of university so a lot of grinding! I go to school most days of the week, take classes and study, I'm usually on campus from 10 to 10. I also work part-time every other weekend. I work as an on-call coordinator from home, so every other weekend I'm home working. The weekends when I'm not working I try to relax and catch up with friends or study.
4. Since today is #TMITuesday can you tell the readers something about you that they may not already know?
I have been a huge fan of k-music for a while now. Some of my favorite artists these days are Dpr Live, Chungha, Hyoeun, Omega Sapien. As well as kpop groups like, Ikon, Twice, Blackpink, Ateez.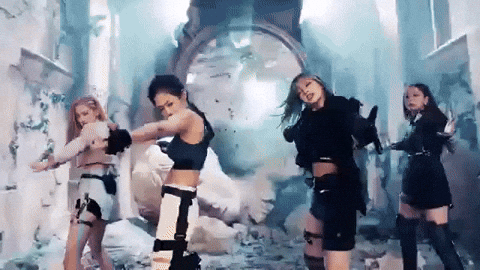 5. How has your life changed since TikTok?
Honestly, it hasn't changed much, I still wake up every morning and go to school and my goals for the future haven't changed much either. I know that now TikTok has created much more avenues for me and I am excited to where they may lead, but I'm still taking one step at a time, and making decisions as they come.
6. If you could choose one song to be your 'theme song' what would it be and why?
Hmm this is a hard one. I don't know, maybe, As If It's Your Last by Blackpink..maybe.
7. What is the type of content that you see on your 'For You Page'?
I see a lot of fellow black hijabis, making all different types of content, which I absolutely love! I also see a lot of vlog type videos which I think are my favourite. I've been considering doing those types of TikTok but I still don't know how to do voice overs. I'm still learning things on this app, as soon as I figure that out I'll probably do plenty of those.
8. Do you have any guilty pleasures?
Binge watching an entire series.. in a single weekend. And cheesecake!
9. Who or what inspires you the most?
In terms of who, definitely my parents! My mom is a strong, hard working woman and has a great work ethic (that I could definitely learn from!). My dad is kind-hearted and is extremely supportive, I know I can always count on the both of them for anything. In terms of what, I believe that everything happens for a reason. I always find comfort in knowing even when things are going wrong, there's a reason and that it will pass.
10. What's next for you Aabida?
I was recently appointed Honorary Reporter with the Korean Culture Center and Korean Embassy here in Ottawa. I will be attending events and posting about them on TikTok. I'm super excited to try out different types of content and I'm looking forward to seeing how people like it!