The global agents have made quite the impact on MTV's The Challenge throughout the last few seasons with this week's feature being on of the most unique to land a spot on the series.
The Romanian rocket Ms. Emy Alupei and myself sat down to chat about her time on Survivor Romania, "The List", and her music career.

Witness Emy and I becoming best friends and bonding over hair dye, and a premiere of new song 'Alien' in this all-new #TMITuesday interview.
Vedeta aceștei săptămâni este Emy Alupei!

1. Who or what inspires your music?

For me it's Lady Gaga , she is my idol , my queen , unique , perfect , with a lot of life stories , advices and the hardest worker !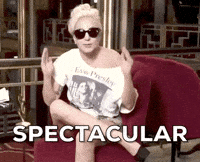 Also my life experiences inspire me and other people's stories.
2. Let's talk about 'The List" on The Challenge: Spies, Lies & Allies, The editing made it seem as though you hadn't seen the contents of the list but then you named people on the list later. What is the truth? 

About the list ! I am never lying unlike some people that live in a world full of lies! LOL! What I hate the most is not lying actually , is not admitting that you lied. 
3. You change your hair as often as I do (a lot), what has been your favourite colour to rock?
Big blue guy! Forever blue ! Matches my mood

Nikki: Blue was one of my least favourite looks on myself, but only because it was hard to fade out.
4. Do you keep in touch with anyone from your time on Survivor Romania? 
Just Emanuel really.

5. Can we expect you to return for another season of The Challenge?
 That's one of my dreams and one of my many goals! I really hope so!
6. What is next for you and your music career?
I pray to GOD for more inspiration and more opportunities and I want my music one day to be heard by the entire Planet AMEN!
7. If you had to choose one song to be your 'theme song' what would it be and why?
My next release "Alien" which comes out today! It's the song which reflects my emotions, my feelings on The Challenge,I wrote it before going on The Challenge and it magic how I felt exactly what I wrote before. And it also reflects my life "in a nutshell".
8. Since today is #TMITuesday can you tell the fans something about you that they may not already know?
I hide my feelings from people because I feel that they are too deep and I feel like no one really understands. 
9. Do you think that you could have beat Michaela and Renan in that first elimination had you gone down with Corey?
I really don't know, I don't work like this. I never think that I am better than anyone! It's just about moments and destiny from GOD. Of course all we have to do is work hard and try our best. I believe that anything can happen to anyone!! Everyone is EQUAL and we should all have the same chances and the same rights !
10. What's next for you?
Next for me is focus and work hard! And this is for you ,if you see this :just never give up , you're the best , believe in yourself even if no one ever did! Thank you ❤