Twitter has spoken and now you lovely and devoted readers will get what you want with weekly Teen Mom OG recaps. The first episode aired and we met the new moms (best known for being Sarah Palin's daughter, and an MTV's The Challenge/ AYTO cast member), and most importantly Farrah is gone. Do you think she took the backdoor out? Get it? Backdoor Teen Mom?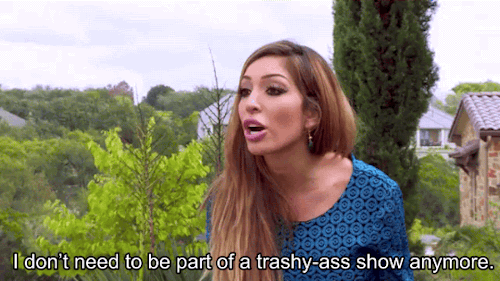 Lets get a format going here for these recaps yeah? I'm also going to be featuring guest writers some weeks so stay tuned for that. I'll go mom by mom here for this premiere recap.
Bristol: Bristol opens with seeming sad that she's the only person in her family not living in Alaska and that it's been hard (all this while at family/friends dinner while husband Dallas is on a trip with the kids). Whereas it is revealed about Dallas that he struggles with anxiety (including nightmares) and it seems like he feels as though Bristol doesn't understand his mental health. It appears the anxiety and PTSD were brought on by his time in the military (which he joined at the age of 17).
Catelynn: After suffering a miscarriage last season shes back in a rehab for anxiety and depression leaving Tyler to take care of daughter Nova alone. While at lunch with his mom Tyler admits that he is finding it hard not to be bitter that he's raising Nova alone while Cate is in treatment. Tyler is all of us when he fixes the wobbly table with a napkin during this lunch btw. Tyler is obviously drained when he has the most awkward facetime with Cate while shes still in treatment. Both parents seem to be going through different cycles following the miscarriage. Tyler is also seeing his own therapist to deal with his lack of empathy for his wife and what she's going through. Will their marriage survive?
WE ALL STAN TYLER. WE DO. And Catelynne for getting the help she needs.
As for whats up with Nova, she looks just like both parents and is very into her pet turtle.
Amber: My dad always hated Amber when she was in and out of jail and yelling at Gary all the time. And yes I forced my dad to watch Teen Mom with me, what of it? This episode has Amber admitting she is looking to co-parent with Leah's father Gary after last season's reunion. And then seemingly out of nowhere, Amber had baby James with new boyfriend Andrew in a short 5 hours of labor. I'm just glad Matt isn't around anymore because I hated him so much.
Cheyenne: So Cory and Chey met on The Challenge, and they hooked up at the reunion. Both Cory and Chey were unaware Ryder was Cory's daughter until she was 6 months old, and the two agreed to co-parent. You may know Cory from The Real World, and The challenge…and Ex On The Beach and now Teen Mom and TRL.Baby Ryder said 'bye daddy 'I love you' and is the cutest kid I've ever seen. Cory talking about Ryder is the cutest thing too. Cory admitted he hates that Zach (Chey's boyfriend) and Chey live together, and communicates this with Chey. Not that it matters since during the "whats happening this season on Teen Mom OG" it shows Chey talking about her break up with Zach, and Bristol is set for a divorce so…
Oh and fellow multi-show cast member Nelson made an appearance too?
Maci: After a threatening phone call made by Ryan to Taylor, Maci, and Taylor  Later on in the episode, the courts allowed an order of protection for two years to be put against Ryan, not including Bentley of course. Oh and Taylor wore his best plaid for court so that happened.
It seems like this new season of Teen Mom OG is really set up to shine a light on mental health that the world needs, and I'm excited to see how it unfolds. I could also just watch a Chey And Cory show if we're being honest? OKAY LET ME KNOW HOW YOU LIKED THE FIRST RECAP? Who do you want to see as a guest writer? Tell me everything. I love you.