Note: This interview was conducted almost one month ago.
I am thankful every day that there is a Challenge community on Twitter because 1. My friends do not watch 2. I get to meet cool people like Malik.

I had a socially distanced chat with Malik about the firing of Dee, Jersey Shore, and even Superman in this long overdue interview.


1. Since today is #TMITuesday can you tell the reader something about you that they may not already know? 
I am a huge Superman fan. I have a Superman tattoo, shirts, accessories.  I am a wealth of knowledge for all things Kryptonian.

2. Who are some former Challenge cast members you would like to see make a return to the series?
Some of my old school faves are Evelyn, Landon, Darrell, and Jenn.  Landon and Darrell brought an intensity and integrity to the game that we haven't seen in a long time.  Ev was a bad ass that could hold her own with much of the guys of her time.

3. And with that, who are some reality TV stars you would like to see make a debut to the series?
Unfortunately, I don't watch much Reality TV outside the challenge but imagine how dope if the cast of Jersey Shore was on the challenge.  That would blow my mind. I would also love to see Mikey P get a shot. He has an athletic skill set and connections to the Challenge house.  Now with the whole Kailah Bear things in the open, it might spice up the house.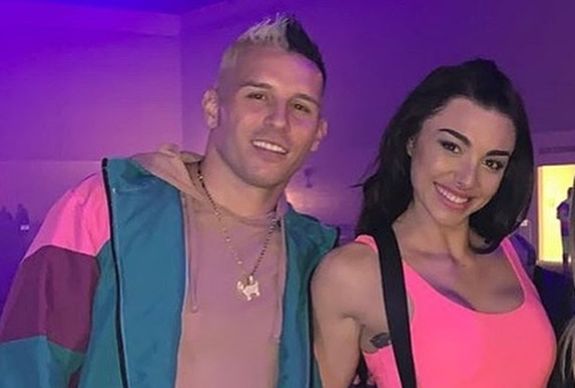 4. Do you follow spoiler accounts? 

 I do follow a couple, not much.  Basically CMD, Gamer, and Pink Rose.  I wish I could go through the season without being spoiled, but If I'm on Twitter, it's probably going to happen.  I've accepted it.

5. MTV "took a stance" following Dee Nguyen's racially insensitive social media posts and the black lives matter movement by firing her from the network. Is this enough?  
I am glad that MTV took a stance, but it feels like Adele may be a sacrificial lamb.  Same with Taylor.  There have been people who displayed problematic behavior way for BLM have been forcing things to change.  It's a good start, but dropping the hammer may have not been necessary.  Jordan Wisely who has been one of the worst competitors when it come to racial matters have never been held accountable by MTV, CBS, and Viacom.  I would be satisfied if the tie was accountability and parity with how MTV handed out their punishments.
6. What is an average day like for you during this quarantine?
I am a huge fan of scheduling because so do not have a minute to waste.  I get up a 4:45am and hit the gym until 7, then so come home and study until 9, I'm at work from 9-5 and my evenings are filled with podcasting, streaming, photography and trying to spend time with the children. I recently bought a camera and learned how to bbq so taking pics and grilling are my main hobbies.

7. We all have one, but what would you say is your current theme song and why?
For many years, in my bar tending days my theme song was "Pop That" By French Montana, but recently I would have to say "Broke In a Minute" by a Tory Lanez and "On Without Me" by Incubus.

8. Let's talk about the podcast! When did you start it, and what inspires you to keep creating this amazing content?
The podcast just came together very naturally,  my first experience with a podcast was Rotten Banana Pod and then I discovered ChallengeMania  and realized that there was huge Challenge Fans like me out there.  So I was already planning to do a podcast and I knew I could pull it off because a I've been a audio engineer for years.  It just so happened I saw Antonio put a tweet that he was thinking about doing one also so I slid in his DMs and told what I bring to the table.  I can host, script writes, master, edit, and get it on all the platforms.  So I get to do most of the behind the scenes stuff, which is cool because I know that we are putting quality Content out in the world. Bananas  brought Vero and Becky in the mix and we just hit it off there.  I really love the challenge and through most of my life I was the only person I knew who was watching it.  Then around the end of Rival III, I discovered "Challenge Twitter."  I just want to give people as much quality content as I can to keep this franchise I love thriving.

9. What are your views on the 'red skull' twist?
In theory, the red skull twist sounds great.  You eat what you kill.  I think the challengers were really scared about how this would play out which I why we seen a real scared game through the first 6-7 episodes.  I think the twist really sucked a lot of quality drama out of the show, because nothing is quite like watching people do the mad scramble to save themselves from elimination.  I think I would preferred something like final reckoning where ppl can pick their opponents from who voted them.

10. What's next for you?
I'm not 100% sure I'm already stretched so thin between a full time job, running TheChallengeGear.com, Love War Challenges, The Hitlist, 224 The Basement, full term schooling, photography, taking care of 6 little girls, and trashing Jordan on Twitter, my plate is really full.  Sadly, I think to grow as a Podcaster, I would need to do more shows that discussed more than Reality Tv. So you guys can keep on counting on me doing LWC, but Im hoping to only add more, and keep putting out solid Challenge content.  Nothing makes me happier than that and hooking up ppl with custom challenge gear.
You can check Malik out on LWC here and stay tuned for all new posts and interviews on http://www.thenikkisin.com as I slowly get my quarantine brain in order.