This week's feature is not only the owner of a gorgeous voice, but also the winner of The Challenge: Free Agents. To be the champion of a competition that not only tests you physically, but also mentally and emotionally takes a lot, but Laurel Stucky took the cake (and by cake I mean first place and $$$). and kicked a lot of ass while doing so.
Laurel is more than a fierce competitor, MTV's The Challenge Champion, and bad ass; she's also a singer/songwriter, and an actor. Find out what show Laurel recently auditioned for, who and what inspires her musically, and of course we chat about her time on MTV.
1. Along with your time on MTV, you're also a singer. As an artist, who/what inspires you?
     Oh man, just life. Living life to the fullest and making the best of what you have and keeping a positive attitude. I particularly am inspired when I get out in nature and when I am in the mountains or swimming next to the Tetons with the sun sparkling on the water. I am inspired by old architecture and craftsmanship because I think about how hard and long it must have taken someone to do the work in a time where there weren't machines like there are today to help aide. People's stories inspire me. Confidence and conviction in self inspire me and kindness when unexpected inspires me. I just love a good story that takes you somewhere else or makes you feel like you can relate to exactly what it is that is written. It's a truly unique moment that brings people together.
2. On your last season, your winning season, you and Jordan were an item. What was it like to see him compete with Sarah on The Challenge: Battle of the Exes 2?
     I was rooting for Jordan to do well and showcase his endurance, patience and easy going side. Regarding him and Sarah I thought nothing of it – they were a team just like any other. I will always have a very close trusting relationship with Jordan, but I definitely was curious if he was going to hook up or kiss anyone because we had just broken up before he left to film. He didn't so that felt good.
3. As a Challenge winner, who would be your ideal partner(or multiple team mates) to compete with, and why?
    At this point, I would just like to partner up with anyone who I don't have to baby or coach. Someone who has the ability to know that they have a job to do and that they should be expected to step up to the plate to get it done with no excuses. Someone who knows what they need to get done and can just do it. Competitors with confidence in their ability and not debilitating fears. The best partner would be someone who would pull their weight and be able to step in as an equal.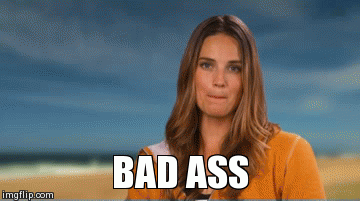 4. Do you watch any other reality TV shows?
    Yeah I watch the Bachelorette and a lot of HGTV shows like Property Brothers, House Hunters, Fixer Upper… I love home designing and can watch for hours. The Bachelorette is fun because I always want to see what happens based off the previews. Diem and I used to watch together every week with a bunch of girls and wine and snacks. It's a social event and something to look forward to on a Monday.
5. Since today is #TMITuesday, is there anything you can tell the readers about you that they may not already know?
I had my tongue pierced twice in college. I was a National Collegiate Scholar and I didn't have sex until I was 22 years old.
6. In order to win on The Challenge you need to be psychically fit. What is your typical fitness routine?
I try to play beach volleyball as much as I can because it is a total body workout but doesn't feel like it because it's fun and competitive. I hate going to the gym because it's boring and the machines just make me want to run the other direction. I like doing classes like cycling or yoga. I try to take a walk everyday and get outside. I have a dog so he is my buddy and sometimes we run when we feel like it. If I have to I'll do fitness DVD's inside. I definitely got Emily Schromm's DVD and you should too! Honestly, the most important thing to do is to move your body for 20 minutes or more every day. There was a period where all I did was dance in my apartment and I was the thinnest I ever was in my life since high school. Activity is so good for the body. Moving around and shaking things up. And all of this combined with eating good basic health foods.
7. What would you say is your "theme song"?
Maybe 2pac – Changes
8. What sort of terms are you on with Cara-Maria, your BFF whom you had a televised argument with?
Cara Maria and I are good.
9. With so many hook-ups on The Challenge, is there anyone on the show who you would want to hook up with?
I'm gonna go with what I know works well: Jordan.
10. What's next for you Laurel?
     I moved out of Manhattan and Cara and I are talking about me moving to Montana to relax and be in the mountains and work with horses and build a small garden where I can live the simple life away from all the action for a while. Something really cool that happened to me was that I got asked to audition for a role on Workaholics, so I'm hoping that there are more opportunities just like that out there for me after this break. And I'm just hoping that I have the courage to step out of the mainstream life that I feel pressure to live and follow something that makes me feel truly happy even if it seems crazy.
I definitely want to keep singing, writing and performing amongst it all because that is where my heart and soul is.