It is officially festival season, bring on flower crowns, good vibes, and a flood of festival selfies on all of your social media platforms. This year, Bestival made it's return to Toronto but switched from the Island, to Woodbine Park. There was a fair amount of concern from resident regarding noise, and trash but the festival organizers, hailing from the UK, made sure it was all fine. I popped my Bestival cherry this year, and to be honest I wasn't expecting it to be what it was: F*CKING MAGICAL. The majority of festivals that I attend are smaller, and somewhat on the hippy side so a festival like this seemed like it would be a little too off base (or rather on a normal base) than what I would enjoy. I was very wrong, the set up was amazing, I kept forgetting I was in my home city it was transformed so well.

After I settled in and accepted that I couldn't be as jaded as usual at a Toronto event, I made my way to what I came for: The Cosmic Unicorn Parade (in association with Kigurumi Canada).
The parade, which was put on by the same lovely folk who bring the Renegade Parade to Nuit Blanche each year. Armed with a truck with its own horn, some fire, and a plethora of magic, the team filled the truck up with flag waving, bubble blowing, booty poppin', dancing unicorns featuring Deer Team Six who I believe will officially replace festival fashion with a staple of antler and fur.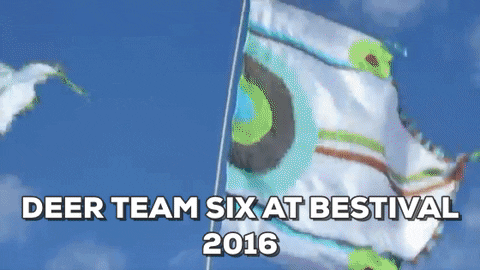 Driving through the Bestival grounds crowds followed, danced and cheered the entire time, stopping to take a few selfies of course. With Dj JD Mack blasting beats, for the parade, and the truck returning Sunday with a few guest DJs in a parked spot.
Later in the evening Saturday, I checked out some of the vendors, danced around the grounds, and caught Porter Robinson's set (and even got caught smiling, yeah I know.). There was almost no standing room at one point within the tent it got so filled with dancing fans.
Sunday seemed to be all about The Cure, and Grimes for everyone which I totally get but with the two playing on a Sunday I would have preferred if  this were held on a long weekend.
So perhaps it was the sunshine, the music,the organization of the festival, the vibes, the fashion, unicorns, deer,my amazing squad, a combination of all of those things, or just some magic but Bestival T.O was incredible.
10/10 would attend again.