I'm sure it has nothing to do with the Spice Girl's reunion tour announcement and everything to do with the state of equal rights in the world but I'm living for the resurgence of GIRL POWER.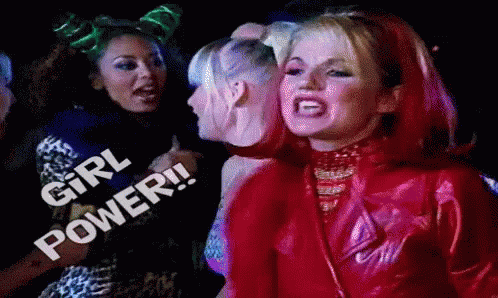 For you non-90's babies out there, the Spice Girls were the girl band of our time, your Fifth Harmony-Little Mix type deal if you will. Women are making their moves KNOWN in music. This isn't a political post about feminism or women's rights, nor is it a post about why it's bullsh*t to say women only use sex to sell music (PIERS MORGAN I'M LOOKING AT YOU MY DUDE). But really, it is some bull. This is more so an appreciation post for the women making Free Willy waves. 

I think the front-runner in pop has to be Ariana Grande, I type as I rewatch the preview for the Thank U, Next video naturally. Grande has had an insane year with a terrorist attack at one of her concerts in Manchester, the death of her ex Mac Miller (take a minute to watch his Tiny Desk session because it's incredible and he is not to be simply known as Ariana's ex.), and most recently the ending of her short-lived engagement with SNL's Pete Davidson. Now the singer has a number 1 song with Thank U, Next and continues to spread positive messages for young women. Her latest video for the track that beat out God's Plan by Drake pays tribute to female lead films like Mean Girls, Legally Blonde, and Bring It On. The video has already surpassed 1 million views on Youtube, and hit 1 million likes in 35 minutes. She has beat out top poppers Taylor Swift, Katy Perry, and Camila Cabello for her #1 spots. 
We cannot forget Halsey who I will not deny to being a true poet of our time. The 'Without  And then, of course, Charli XCX is a diehard UK pop queen with her track 1999 featuring Aussie baby Troy Sivan, a song that pays tribute to the prime days of The Spice Girls. While gay Twitter continues to stan Carly Rae Jepsen for her music, and Lady Gaga for her budding acting career.

Despite the Nicki Minaj beef, Cardi is remaining a lead woman in rap. I have to give Bay rapper Lil Debbie the props she deserves the woman works HARD in an industry working against her and continues to contribute BANGERS. The City Girls and Bhad Bhabie (who is essentially still a girl and not a woman) are making splashes, but not quite waves as of yet. R'n'B has had a slow year with Beyonce sticking to Instagram and focusing on her family, and Rihanna is an Avon lady or whatever? Luckily Ella Mai and SZA have soothed us all with their romantic beats. 

Electronic music has a million underground subgenres so it is hard to discuss who's doing what. Rezz is certainly making moves, along with Com3t (sister to Bella Thorne). 

I refuse to pretend to know anything about country music, but Kacy Musgraves seems popular? Get it, girl.

I anticipate 2019 to be a year for women in music, in all genres. Given the most recent American elections, I also expect women to have more face in the government and run the world like Beyonce expects.