No, I'm serious. My jaw dropped like in a cartoon…

This cast is stacked with honestly a bunch of crazy celebrities and an MTV's The Challenge alumni. Let's break down this list of 'celebrities' that may just all murder one another on national television: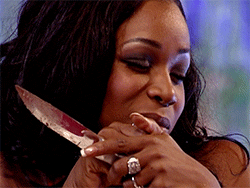 Aubrey O'Day– Singer/member of Danity Kane
Calvin Johnson– Football player
Dina Lohan– Lindsay Lohan's mom
Eva Marie– WWE Superstar
Johnathon Bennett– His hair looks sexy pushed back
Johnny Bananas– MTV personality/villain, and TV Host
Sean Spicer– ugh
Stephen Baldwin– Now an in-law to Justin Bieber
Tiffany 'New York' Pollard– a reality TV icon best known for stanning Flava Flav
Tonya Harding– disgraced Olympic figure skater
Caitlyn Jenner was set to be on this list as well but she bailed at the last minute due to pay. I would have liked to have seen her interact with Dina.

You can watch this mess unfold on January 21st @ 7/8 c on CBS.
EDIT: According to the @BB_Updates the new cast list is as follows (and no wigs were snatched during the reading of this "fresh" list):

Kato Kaelin– A witness in the OJ Simpson case
Ricky Williams– Former NFL player
Johnathon Bennett– Aaron Samuels from Mean Girls and an Ariana Grande video
Lolo Jones– Professional hurdler and bobsledder
Joey Lawrence– 80's/90's sitcom star and then he did that thing with Melissa Joan Heart or whatever
Dina Lohan– Still Lindsay's mom
Tamar Braxton– Sister to 90's diva Toni Braxton
Tom Green– Former funny guy who dated Drew Barrymore
Kandi Burruss– Real Housewives Of Atlanta
Eva Marie– WWE Superstar
Ryan Lotche– Olympic douchebag
Anthony Scarramucci– Former White House Director Of Communications