What's better than one Geordie on MTV's hit series The Challenge? TWO GEORDIES, and one from down under to boot. In this all-new #TMITuesday interview I ask Geordie Shore star, and newest prospect on The Challenge about her time on both of the hit shows, her athletic history, and maybe some tea on the hook-ups in The Challenge house.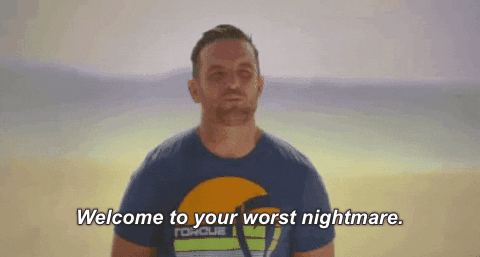 1. Did you watch The Challenge before agreeing to compete on the show?

I've never seen an episode of The Challenge as it doesn't air in Australia. When I found out that I was going to be on the show I didn't want to go in with preconceptions so I decided to not do any research or watch any episodes.

2. Since today is #TMITuesday is there something you can tell me, and the fans about you that we may not already know?

I did a bit of pole dancing and jiu-jitsu for a good year and a half! I may be small but I'm deadly as well.
3. A true Geordie lass like yourself KNOWS how to party so how did the Challenge house parties compare?

The Challenge house parties aren't as wild as everyone was there to compete for the money. I don't think any parties can compare to a Geordie one. The Geordies really go all out.
4. Speaking of being a Geordie, do you keep in touch with any of your former castmates from the hit MTV UK series? What about The Challenge?

I still do keep in touch with a few of the castmates on social media but it's hard to spend time with them as we all live in different time zones and continents! I still regularly text and facetime some of my favourite Challengers.
5. Lately, for me, it's been a toss-up between 'Coldest Nights' by ATTLAS or 'Money' by Cardi B, what would you say is your 'theme song'?

It'll definitely have to be I Love It – Lil Pump and Kayne. The song brings back a lot of memories for me in the Challenge house.


6. Okay, I'm going to need some tea spilled on the hook-ups during this season of the Challenge. What was the most surprising, and the least surprising for you?

I really can't reveal too much yet but there were a lot of hook-ups that made me want to pull my hair out.
7. This season really kept an equal ratio of "rookies" and "vets", was this clear divide something you saw as an advantage or disadvantage?

I do think there was a bit of a divide in the beginning but once we progressed further in the game the divide between "rookies" and "vets" were a lot more blurred and it was more of a divide between alliances.
8. What's a typical day like for you?

I woke up at 5.30am for the gym, then I'm back at home by 7am for work and after work, I spend my time with my boyfriend/catching up with friends over dinner/enjoying a glass of red wine.

9. It seems as though anyone who watches a reality show seems to think that they know the cast members. How do you deal with being a reality TV personality and all the garbage that comes with it on social media?

I think the best approach is to not give a f*ck about what people think. The only opinions that matter to me are the ones that come from my loved ones. People who spend their time 'trolling' on social media are just upset and disappointed with their own life and they are the ones that I feel sorry for because they clearly don't have a strong support network.
10. What's next for you Dee?

A bit of travelling, I don't know if I'll be back on reality TV for a while. It takes a huge toll on your relationships and mental health.
Check out The Challenge season 33 on MTV TONIGHT.