I will never forget the day I became friends with this incredible woman. First year of college, a kigu and a Lana Del Rey t-shirt were really what brought us together. Now we are both older, wiser, and blonder but somehow both ended up as writers. Sasha O'Marra is a self-love advocate and an alternative model who agreed to let me get to know her more in 10 questions. Let's get to itttttt!
1. Why do you think it is important to have representation for all body types in media and fashion?
1. I feel like we're all constantly being sold an image that isn't real – even the models in the media we consume don't look like their photos in real life! It can be so damaging to kids growing up to see this singular body shape and feel like they're lesser than if they can't obtain that exact look. So, I think it's unbelievably important for a variety of real bodies to be represented, to show folks that they are wonderful just the way they are. Our generation, and many before us, grew up being force fed the exact same ideal and it's resulted in so much fatphobia (both internal and external,) rampant diet culture, and disordered eating habits for so many and I hope that seeing a variety of shapes and sizes represented will make people feel more confident in their own skin
2. What is your current favourite fashion trend?
 I love that a lot of 60's and 70's influence is coming back – denim skirts, flared jeans, ribbed shirts, crochet, mustard coloured everything. I'm also a huge fan of barrettes – I'm loving all the pearl and patterned clips I'm seeing in everyone's hair.
3. Take the readers through an average day for you:
Take the readers through an average day for you: My average day is pretty boring, actually. I wake up around 8 AM, get ready and have a smoothie, head to work for 9:30 where I am until 4:30. After that I drive home, have some dinner, and then either go to the gym or watch some Netflix – depends on the day. On Tuesdays I go to my local pub for trivia, and on the weekends, I like to hang out with my boyfriend. Pretty low key!
4. How did you get started in modelling? 
I'm still not sure I would consider myself a model in all honesty, but I kind of lucked out in getting involved in body positive and self love photo shoots. I connected with a woman named Kayla Logan (@kaylaloganblog) on Instagram whose profile I found via the discover page. She worked in PR, which was similar to what I was studying (advertising) and she was talking about what a struggle it was to be a plus size woman in a field that was so focused on looks, which really resonated with me. A couple months later, she started her North American body positive photo shoot tour, where she was going across Canada and taking photos in her underwear near landmarks. I was so nervous when I said I'd do it, but that began my journey into semi-regularly removing my clothes in public! I've now participated in shoots with Kayla in front of the CN Tower, at Niagara Falls (during the Victoria Day weekend, what a time that was!) and on the TTC, as well as being part of her body liberation shoot and doing another smaller self love session. 2020 is the year I'm pushing myself to go even further, and I've recently started auditioning for plus size modelling opportunities! I've met so many amazing people through these events and I truly feel like I'm part of a community now.
5. Since today is #TMITuesday can you tell the readers something about you that they may not already know?
This is the problem with being super open and honest on Instagram, is that most of my secrets are already out 🙂 !Hmm … let's see. I'm bilingual, I lived in France and was in French Immersion as a kid. I'm also learning Portuguese, trying to become trilingual.
6. Who is your celebrity crush and why?
I'm obsessed with Adam Driver. A lot of people say he's unattractive, but I remember seeing him in Girls and being like, ohhhhhkay!! He just seems super intense and that's a big mood. Him as Kylo Ren? Wooooow. I would let him in my mind any day.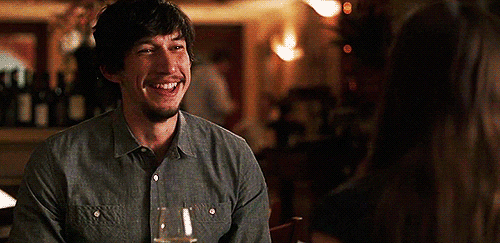 7. What would you say is your 'theme song' if any right now?
My friend Sarah recently texted me asking if I'd heard the song Chubby Sexy. I had not. Now I have, and it makes me laugh every single time. It's by the guy who got famous for his weird Instagram post about loving his curvy wife. It's basically an anthem for plus size gals everywhere – and the fact that there's a line specifically about weighing 200lbs (aka me) just warms my cold dead heart. I'm also really into Velvet Elvis by Kacey Musgraves, Selena Gomez's new album, anything by Lizzo, and 40's-50's country music. What can I say, my music taste covers a wide selection of tunes.
8. If you could, what advice would you give 12-year-old Sasha? 
You are totally amazing the way you are, love yourself the way you deserve, and don't let boys treat you like shit!! 12 was when I really started being bullied at school for my looks, and I took it to heart and spent years wishing I was someone else. But now that I'm in my late 20's, I get that I was wonderful, smart, funny, and didn't deserve that kind of treatment.
9. You're an avid concert attendee, any upcoming shows you're excited for?
2018 + 2019 were terrible years for my concert life because I was a student and couldn't afford anything. The past two years, I've only done Osheaga (thanks mom!) and Death Cab for Cutie (thanks Kels!) so I'm looking forward to getting back to that concert life. Today, I bought tickets for an acoustic show with Lyle Lovett and John Hiatt for my mom for Mother's Day. I'm really excited for that, we used to listen to Lyle Lovett tapes on drives in the car when I was a kid so to be able to take my mom to see him is a dream come true.
10. What's next for you?
I'm pushing myself to step out of my comfort zone this year. I cut off my hair, I'm auditioning for things that I would've never done in a million years, I'm applying for jobs across the country. I'm honestly just looking to shake things up in some way – whether it be by travelling, by seizing a new opportunity, or some kind of life change. I'm not great at planning my future, so I'm really not sure what's happening next! Hopefully something good