More often than not a viral star tries to capitalize on becoming a meme (Bhad Bhabie etc) but this week's feature is more than a music video from 2011. I was lucky enough to chat with singer Rebecca Black to talk about her new music, misconceptions about her, and of course reality TV.
1. What do you think is the biggest misconception about you?
Oh, I don't know! Honestly and strangely, I think the biggest thing is my age. So many people had and still have no idea how young I was when Friday first came out. I've had people tell me they thought I was 20 when I was 13!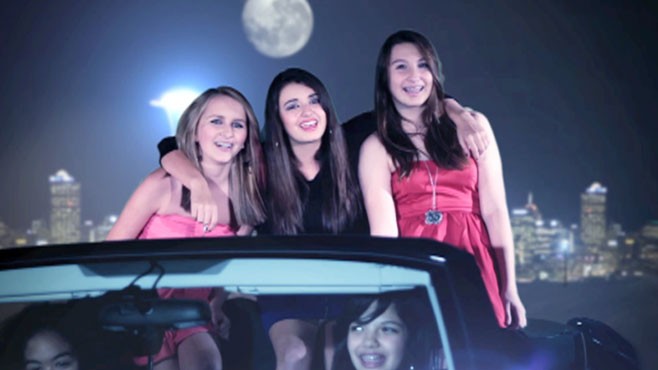 2. Since today is #TMITuesday can you tell the readers something they may not already know about you?
Probably that I'm 50% hispanic. My mom was born and raised in Mexico City and immigrated here as a young woman to pursue her veterinary career. Majority of my family from her side still lives in Mexico all over, and I recently have gotten to connect with all of them again, which is really special to me because it's a side of myself and my family history I learn more and more about every day.
3. Take me through an average day for you.
Every day is definitely different, but I always start bright and early (I guess I'm a morning person) with my rescue dog Marlowe, spending time with her and getting business done early. Then after all the usual morning routine things I head out to either write and work on music for the rest of the day, speak out on mental health other relevant issues for my peers on podcasts, panels or my own platforms, or running around planning what's next! The best days end with going to see a good show or concert of an artist I'm getting to know and love.
4. I love a good duet, or collaboration of artists, who is your dream team up to make music with? 
I could list so many. I am really inspired by Kevin Parker of Tame Impala, Mark Ronson, SOPHIE, Rosalia just to name a few.
5. Which song, if any, would say is your 'theme song'? 
Haha, honestly Sweetheart by Rebecca Black! If there was ever a song that was an eternal mood for me it'd be that. Also, totally also Stupid by Ashnikko. 
6. I love reality TV and TikTok, do you have any 'guilty pleasures'? (Let me note I do not feel guilty about liking either of those things lol).
The Bachelor legitimately runs my life. Monday nights are tradition for my friends and I at my house to chow on way too many snacks and just scream at the TV for 2 hours straight. It's the best.
7. Who would you say is your 'celebrity crush'?
Rosalia. 100%.
8. You have recently started DJing, how has that experience been for you?
I love it! It's a completely new experience but feels good to do something I never thought I could. Playing gigs where the crowd is just at the highest energy level gives me such a rush because I'm on stage enjoying the music as much as they are. Nothing compares to singing and doing my own 'regular' shows, but I do really respect the craft and want to keep learning!
9. Who, or what inspires you in your life and your art? 
I think the biggest thing is picturing little RB as a kid. She had such massive dreams for herself and saw the world as something that was ever-abundant in possibility and opportunity. If there's one person I never want to let down it's her. We all have that little kid we can remember being, and its a really comforting thing to look back to at times. As we grow up we lose sight of that same possibility that's never actually gone away – it just seems like it does through all the negativity we have thrown at us every which way. Kids are on to something! And she never fails to give me hope!
10. What's next for you Rebecca?
I'll continue to write and create from an authentic and honest place, and hopefully continue to grow the quality of those creations as well. I also hope to continue to speak out on what I am so passionate about; mental health, internet culture, LGBT+ and women's rights, importance of arts programs in schools..it never ends. I just mainly hope to connect with more people out there feeling like the underdog or outcast in their community, and show them there is hope on the other side – no matter what anybody tries to tell you.