Whether you know Elijah Daniel (aka LIL PHAG) for his social media content, music, or beef with the cast of Riverdale you have certainly heard his name before.

With the current COVID-19 pandemic having the government and health officials suggest (and in some places enforce) social distancing/self-isolation and hand washing it seems to be everyone for themselves. Elijah Daniel took to Twitter to see what he could do to help those who don't have somewhere to quarantine or access to the NECESSITIES. Putting together help packages for the homeless communities in the LA area complete with toothbrushes/paste, hand soap, feminine hygiene products and something that THE PRESIDENT couldn't even do…COVID-19 test kits.

With the "birth" of the CULTforGOOD Project Daniel said this:

"I don't know why my stupid ass has to be the one to say it but:
We are all humans, and we're not making it through this without each other.
My mother taught me to be kind and protect everyone, especially our weakest, Because our weakest at that time may also be our strongest.
Our "weakest" are only humans, facing conditions that we could all, to be f*ckin' real, be facing at any point. And I hope this has situation has taught all of us that.
Starting with just the help of Forcer App, in less than 24 hours I've gathered a network of incredible people from millionaires, to influencers, to people who work with the homeless in Los Angeles every day.
And they all came together, without the promise of any promotion or press; to protect everyone.
With the support of these individuals, companies and the members of this CULT, this weekend, our first CULT Relief Trucks will begin distributing nearly 100,000 care packages including bars of soap, water, food, menstrual hygiene products and growing list of other necessities to the Los Angeles homeless population to help in the fight against COVID-19 aka the coronavirus.
This will only start in Los Angeles, with growing donations and immense support we hope to announce more trucks in more cities in the coming days.
*I think it's also important to note that 80%+ of the supplies being handed out are being bought by family and minority owned small business, not only are your donations helping the homeless population, but they are also helping struggling through this tough time as well.*
we are here to come together as one cult
people over politics
people over profit
protect everyone
(it's still f*ck Trump tho)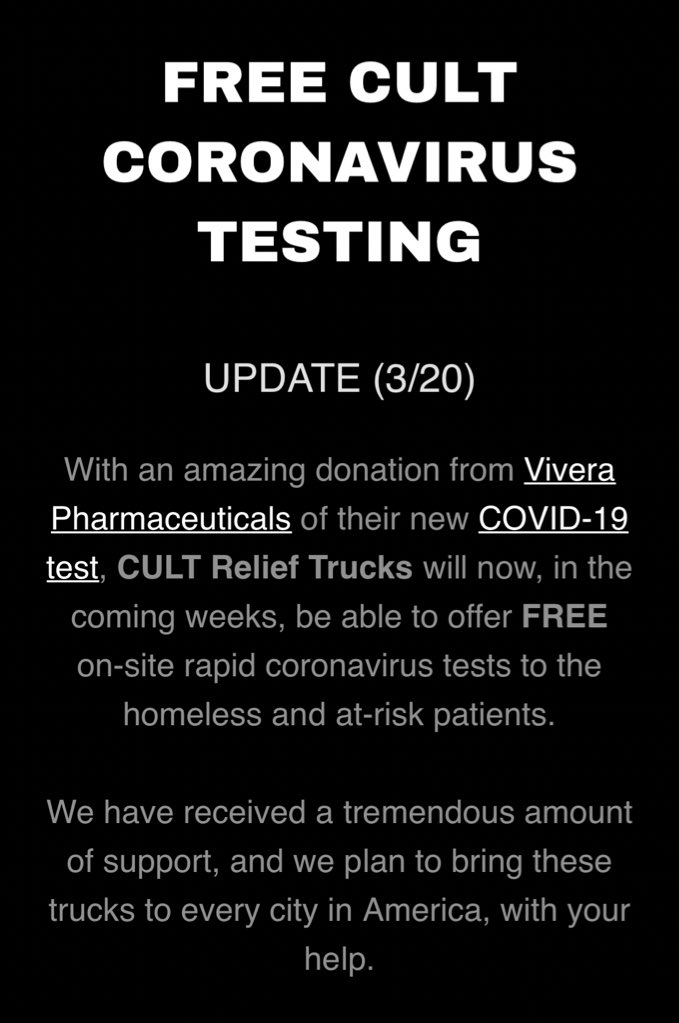 So why am I writing about this and not the efforts of other celebrities in the public eye? Well, for starters Elijah Daniel isn't singing 'Imagine' from his mansion and telling me to enjoy the time with my family or some BS. He is making a REAL difference. And I believe that LA is just the start…

Daniel stated today on Twitter regarding the expansion of the cause

"we are logistically figuring out CULT trucks for: NYC, Boston, Baltimore, Cleveland, Detroit & Flint, among many others right now."

So how can YOU help? Well you can donate directly to the cause (that is what I could do from Toronto): https://cultforgood.com/