How did we all feel about the one week break for the holidays? I think it was beneficial for the show. This week things got very bro-y, very Fessy, and very messy.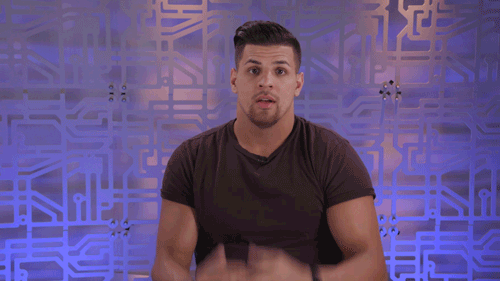 Devin revels in his win by being a complete douche nugget.
Big T tells her story and gives you further insight to how she became the woman she is today (note, I cried.).
Devin decides that last week he hated Big Brother and Josh and this week he hates Tori and Amber M for no real reasons. The new Amber rivalry causes tension between her partner Nelson and Devin.
Nelson calmly approached Devin regarding an incident between Devin and Amber M the night before where Devin tried his best to tear her down but she held her own. This approaching from Nelson was something that Devin was having NONE of.
Fessy admits he has a crush on Tori in a confessional but claims to be not acting on it to respect her (at the time) engagement to Jordan.
The daily challenge had challengers flying drones in a cave to retrieve a code and each team failed miserably with the exception of Tori and Devin making them this week's Double Agents.
Liv was medically DQ'd after her injury from last week leaving Meechie as a Rogue agent awaiting a new partner after the elimination.
The house vote was a toss-up between Josh/Nany, Jay/Theresa, and Nelson/Amber M. In the end it was Nelson/Amber M with Tori gunning for a smaller female to face-off with for a gold skull.
With Liv's DQ it was another men's week and a HALL BRAWL. Fessy saw the grounds and asked Tori to be thrown in. Tori replied "It's Nelson though" and Fessy didn't seem to have a problem with that. On the other side of things Josh was ready to go in and earn his own gold skull.
Tori decided not to go in with fear of it being a men's week and TJ would not reveal which it was until they made their choice. She decided to put Fessy/Aneesa in as she was confident that either could take on their opponents in this legendary head-to-head. Josh was NOT happy and felt betrayed by Fessy and Tori, while Nelson felt betrayed that Fessy wanted to go against him.
Fessy vs Nelson was more of a fight that anyone expected and Nelson HELD HIS OWN. Fessy played hard and dirty and this lead to a win for him.
Following his win Fessy chose to infiltrate a team and took Leroy's partner Kaycee as his own, leaving Aneesa and Amber M as the choices for Leroy who ended up choose Aneesa. With Amber M as the remaining choice she was partnered with fellow rookie Meechie.
 If you like these posts be sure to subscribe to Caffeine Confessionals for an hour-long show of me and Allan Aguirre talking about each episode. Available on: