OOOO-WEEEE RICK what an episode! If you want to hear more about episode 7 subscribe to Caffeine Confessionals nowwww! Let's get into ittttt!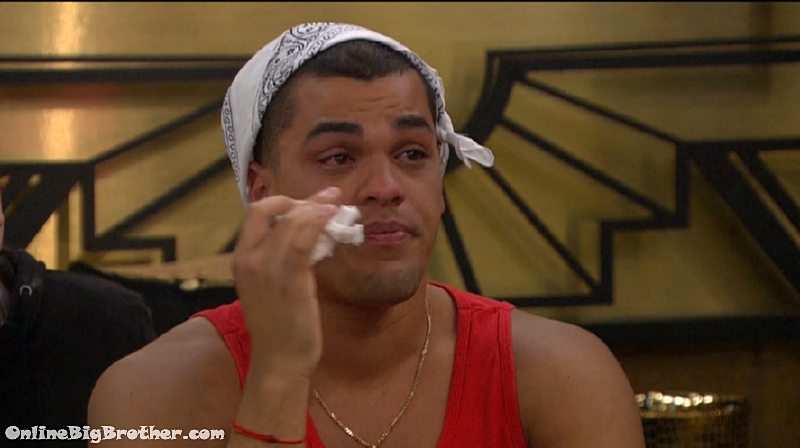 The aftermath of Theresa and Jay sending in Kam and Kyle. Leroy, Cory, Kam and Kyle are rightfully upset about being blindsided.
Theresa and CT set their sights on Darrell being thrown in. And umm Amber B got camera time?!
Fessy approaches Cory for a heart-to-heart after all the the sh*t that has gone down this season. "I'm naturally an introvert" – Fessy
Devin goes on another "I hate Big Brother" ramble.
Daily Challenge: A head-to-head brawl on a cargo net hanging from a helicopter.

Kaycee takes heat 1
All 5 guys are DQ'd for not competing in heat 1
Theresa takes heat 2 with Amber B putting up a fight
No winner for heat 2 of the guys

It came down to Jay/Theresa and Leroy/Kaycee by just one second. Leroy and Kaycee nabbed. the win.

TJ is obviously disappointed with the men's lack of performance and tells them they f*cking suck.
Theresa creates further waves in the house but the real kick-off is Devin and Kyle vs Josh and Fessy. Josh throws a drink at Kyle, and shoves Devin.
Theresa vs Amber B turns into CT being thrown under the bus in deliberation but it doesn't play out. Theresa and Jay are the house vote, with Leroy either wanting to go get his own skull or put Nam and Lolo in.
TJ announces that Josh's behaviour will get one warning and one warning only, additionally thanks to their lack of trying any man who did not try in the daily would not have their vote count. Jay and Theresa are still voted in and Leroy wants his SKULL.
A souped out version of the elimination from episode 1 of the season is what the guys' are doing. AND WHAT A SHOW. Leroy takes the W, Kam is the cutest cheerleader and it was a sight to see.
This elimination determined the partner of rogue agent Cory, Leroy chose to stick with Kaycee leaving 'Cursed Cory' and 'Toxic Theresa' as a team.