With the announcement of Big Brother Canada's 9th season premiere (March 3rd, mark your calendars) stirring rumours of all-stars last week what better time to chat with an all-star from the US.

*Yes, I am still salty that I put a ton of effort into my audition for BBCAN9 and I didn't get a call okay.*

I sat down to ask the 'Hello, Friends' host questions about Big Brother, Fear Factor, and find out what a day in her life is like in this brand-spanking-new #TMITuesday interview!
1. What were your initial thoughts going into Big Brother All-Stars?
I had a lot of mixed emotions going into Big Brother: All-Stars. I was excited to return "home," if you will, especially since I had just left the house months prior, but I also had some reservations for that very reason as well. Big Brother is amazing; it is an experience, but it is also a lot. I ending-up learning just how much doing back-to-back seasons would affect me, but, prior to walking into the house, I was just eager. Eager to have another chance at an otherwise once-in-a-lifetime opportunity; eager to play a game that I love and that I've been watching for over a decade; and eager to make it to finale night again but this time get my rainbow confetti! It was a nervous and concerned eagerness, but it was eagerness nonetheless. That's the thing about loving Big Brother. It makes you a glutton for punishment. As tough as it is, you'll never turn down an opportunity to do it again. If it's in your veins, it's in your veins.
2. Okay so, if you had to choose one song to be your 'theme song' what would it be and why?
Oh man, I would have to choose "Here Comes the Sun" by The Beatles to be my 'theme song' because the song, and the phrase in general, have serendipitously been everywhere I've needed them in my life. When my grandma passed, when I was beginning my Big Brother journey, when I was having a random, late-night breakdown about not being "good enough," and so on. It is a reminder for me that the sunlight is coming and that everything is going to be alright. And that's something that not only means a lot to me, but that I hope I embody for others as well.
3.Do you keep in touch with any of your former houseguests from Big Brother?
Oh, absolutely! I don't even see them as "former houseguests." I see them as family, most especially those from my first season (Season 21) because I lived with them for far longer. Obviously, in life you become closer to some than others, and that level of closeness can change weekly, monthly, etc. due to who's busy, who's traveling, etc., but, overall, I communicate with many of them to varying degrees, whether it be actually visiting them, having long phone calls, or even just DM-ing and commenting on social media. In this sense too, I also love it when my BB fam join Eric and I on "Hello, Friends!" to catch-up because it's always good times when I get to see, and hear from, them!
4. What is an average day like for you?
An average day for me is pretty busy as of late. Eric and I have our multi-format show "Hello, Friends!" that we work extremely hard on, so there is always something to do, create, promote, etc. on that end. With that being said, being a night owl, I like to think that my day starts the night before! I am typically awake until about 5am either working on content or graphics, or reaching-out to potential future guests, or doing a spontaneous "hangout show. From there, I sleep until about 11am, which I guess is when it could be argued my day actually "starts." And then I eat my breakfast, typically eggs on Cheesecake Factory Brown Bread or Lucky Charms cereal, and either record a podcast live or spend time with my fam (—Mama and I love to go on walks to Dollar Tree when the weather is nice!) And then nighttime is when Eric and I either have a live video show or a The Challenge Watch Party, or, if I'm not working, my sisters and I catch-up on our favorite shows, like Swamp Thing, Big Sky, Riverdale, Nancy Drew, Hell's Kitchen, etc. We have also recently really gotten into playing things like "What Do You Meme?," "Kids Against Maturity," etc., which are a lot of fun! Otherwise, I am pretty chill and like to draw, play video games, and read, which I've been trying to do a lot more of lately. And then, again, I stay up at night doing my night owl thing of trying to convince myself not to make cocoa and eat cookies… which I always inevitably do; and hence the cycle restarts! haha
5. Since today is #TMITuesday can you tell the fans something about you that they may not already know?
Oh man, this is kind of a difficult question. I am very open, transparent, and candid on the podcast and during my "hangout shows," so I feel like there's nothing that people do not know about me! haha Hmm…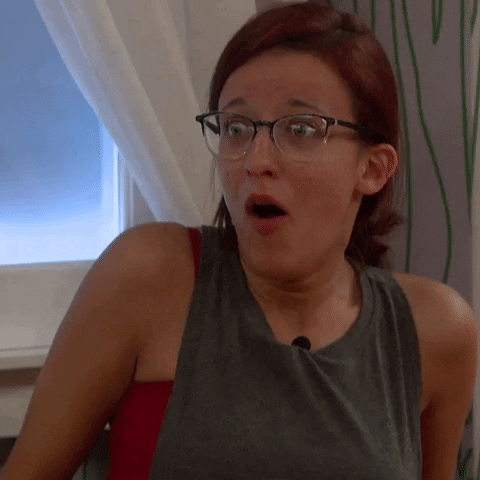 I guess I would say only those really close to me know that I am someone who is fearless when it comes to psychological things like doing a blind taste test or running outside in the rain or trying something new. I like adventures, experiences, challenges, and traveling, even though I may not have done much of these things in my lifetime… yet!
6. Do you think that Big Brother accurately depicted who you are as a person with the editing?
From the clips, gifs, etc. that I have seen of the Diary Room sessions and house/competition footage that was shown of me on both Big Brother 21 and Big Brother 22: All-Stars, I would say yes. In fact, I would argue it must be an accurate depiction of me because I have never been anything less than my full, authentic self in that house, both seasons. So whether I was being quirky, or funny, or savage, or sad, or frustrated, I can honestly say that it was the real and raw me in all my multi-faceted glory in that crazy, intense, unnatural, pressure cooker of an environment at those times.
7. Who is your celebrity crush?
My celebrity crush is hands-down Tom Felton. I have absolutely adored him since probably around late middle school, and my adoration is still continuing strong to this day! I think he is such an incredible actor, a very talented musician, and just an extremely kind, genuine, and authentic human being. I love him!

In regard to who I idolize when it comes to a female, I have to say Drew Barrymore without a doubt! She is somebody who is just so kind and authentically herself, and it resonates on her show, on her social media, etc. She is definitely an inspiration to me and someone that I relate to, and look up to, on both a personal and a professional level.
8. With Netflix putting Survivor and MTV's The Challenge on their site there is a burst of new reality TV fans emerging; what was the first reality show that you ever watched? and what did you think about it
If I remember correctly, I would say that the first reality television show I probably ever really watched was Fear Factor. I used to watch it with my entire family, including my Grandma, and we would all be holding our breaths while timing ourselves during the underwater stunts to see "who would win" and yelling at the television in regard to who "wouldn't be afraid" of the heights, or to eat a bug, etc. So I just remember always thinking, "I could do that… Wait, could I do that?! Yeah, I would do that… But could I?… Well, I would at least try!" haha From there, I remember watching Survivor with my Dad when I was very young and thinking it looked like so much fun but also scary (and cold) as hell! And then, of course, I discovered Big Brother, which very quickly became my Number 1 show every summer thereafter. And the rest is history! haha
9.Let's chat a bit about your podcast ' Hello, Friends'! How did you get started in podcasting, and what is your show creation process like?
I got started in podcasting thanks to my now-co-host and bestie, Eric Curto. I had gone to college for English and was very much researching careers in editing, publishing, content creation, etc. prior to getting the call for Big Brother 21, so it was literally meant to be when Eric and I met when he interviewed me post-Big Brother 21. We started talking, realized how similar we were, and began covering The Circle together. From there, it evolved into us covering Big Brother Canada 8, The Challenge, Tiger King, and so many other things until one day we were like, "Hey! Brain baby! Let's create our own show that will spread positivity and joy during this pandemic and epitomize everything that we stand for: friendship!" And so "Hello, Friends!" was born, and it has honestly grown and evolved so much since then from a podcast to now a multi-format show that has been visited by such incredible people as Omarosa, Matt Iseman, Bobby Moynihan, Anne Heche, Todrick Hall, Julie Chen Moonves, Matt Sallee, Adam Chance, and so many others!
Our show creation process is a crazy, busy, ever-evolving, always-going one. Eric and I work really hard to create all of the content that we do. For instance, in any given day, I could be contacting and scheduling guests as he is making social media graphics, and then I prep an outline for a live show while he is prepping the production side of things for the actual broadcast, and then I am promoting to social media while he is editing after the fact. So it is a constant process of doing our best while also figuring-out what we can "do better" for our listeners and watchers as well as for ourselves as content creators. I honestly love, and am so proud of, what we have done, what we are doing, and what is coming next!
10. What's next for you Nicole?
This is a great question. Of course, I'm looking to continue rocking and rolling forward with "Hello, Friends!" and interviewing absolutely incredible guests from reality stars to musicians to actors! Otherwise, I am just having faith in the powers that be and the journey they have planned for me. Personally, I am looking for growth and adventure. I want a car. I want my own apartment. I want to travel once all is well with the world again. So, ultimately, I am hoping that "what is next for Nicole" are opportunities that allow me to do that while also inspiring others. I want to continue to spread messages of love, positivity, kindness, forgiveness, and understanding as Nicole from Long Island, NY!