If you have been brave enough to endure seeing Nicole Z on your screens lately then you are probably hooked on the new season of Ex On The Beach. And while I believe the season has brought a fair share of duds (Daniel…on behalf of Canada I'm sorry for him y'all) we have also got to meet amazing people such as this week's feature. Jakk hit the peak as Danny aka Adore's ex and there was uhhh…just a little drama?
1. Coming to the Peak, aside from your ex, did you know anyone else in the house from their show?
I had no idea who anyone was but at the end of the experience, I really knew who I was.
2. Since today is #TMITuesday, can you tell the readers something about you that they may not already know?
I used to go-go dance when I was nineteen and I was never very good at it so I would just hang at the bar and flirt for my tips.
3. How do you feel your experience on Ex On Beach: Peak Of Love compared to what you thought it would be?
I thought I was going to leave in a relationship with Danny, we saw how things played out and there's still a lot of emotions I'm confused about. I didn't expect that a cuddle would have been much controversy and it was just a drunken mistake. I'm still continuing on my journey and learning more every day.
I really wish I didn't get so in my head and depressed the last few days and enjoyed being present. I wasn't expecting the process to be so fake and I only agreed to go because I thought I'd be safe with my ex being there. Overall the experience forced me to grow up and I'm thankful for that.
4. If you could choose one song to be your 'theme song', what would it be and why?
Human Nature by Madonna.
The song is unapologetic and holds no fucks to give. Listening to that record gave me a lot of confidence to be able to write the kind of poetry I do.
5. Currently, my go-to reality shows are MTV's The Challenge (catch my season 35 recaps coming with the premiere), and Dr.Pimple Popper. Do you have any reality TV guilty pleasures or obsessions?
I watch all of the housewives franchise (minus Dallas and OC) but I really love that shit and more or so love my sisters and I's connection through it. We are always on the phone talking about it and cracking up.
6. Do you keep in touch with anyone from EOTB?
I'm so grateful to have gained a friend like Laurel on that show. She legit drove 10 hours to see me on my birthday and spent Thanksgiving at my mom's house. People like her are very rare.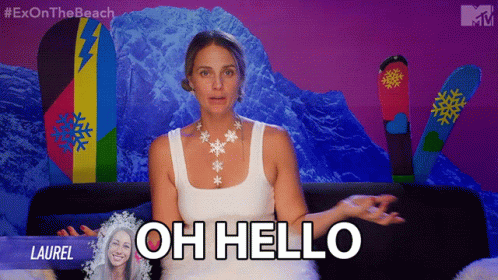 But I stay in touch with almost everyone, I've seen Tee, Allie, Todd and I talk to Trenton every day. He and I really bonded after experiencing the same kind of drama. But we truly are very the same, I'm surprised we aren't actually blood-related. It makes sense how we are so similar, I guess our ex has a type but I'm thankful for all that I gained him.
7. Would you ever consider appearing on another dating reality show?
Absolutely not. After two failed relationships I think it's time I focus on myself and my work. I would love to go on TV again but dating shows are mad tacky and overproduced; that's just not my style.
8. Let's talk about your poetry! Tell me about your process and when your work will be available.
Yes! Let's talk about art! My creative process varies depending on where my head is at and the moments I'm trying to encapsulate. With my recent project (Post Traumatic Sex Disorder) I moved to Colorado to write the entire book, did most of the work in a cabin outside of Denver and then at this bar in the city that had the best vegan wings for happy hour. It was a super cathartic process for me and I hope that I created something that will inspire people and help them on their own journey. When it comes to a release date I can say it's soon! Like within a month soon! I'm working on a video that will drop the date, maybe I'll send that to you as an exclusive first?
9. Is poetry your primary creative outlet?
Absolutely. I've been writing since I was fourteen years old. There are definitely other ways I like to express myself too. I'm a model and when I'm creating imagery with designers and artists I love I get the biggest release. You gotta sell the emotion with just one frame; it's so different than acting, which is also something I'd love to try.
10. What's next for you?
Well, I wrote a piece called "Sidelines" I'm trying to get sent to Reba McEntire for her to take on, my dream as a writer is to have her perform one of my songs. I also have a few ideas for my next book and I've been working on different projects, but what's next? I'm not exactly sure, I'm just gonna keep creating, learning, and growing with the intention of creating a shift in the world. No matter what's next, my purpose in life is to help people heal as we are one collective spirit. Of course, I would love the boyfriend and picket fence too but I'm trying to manifest things with my career and that will always come first.